Iveco
Currently 10 in stock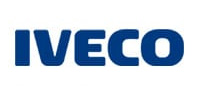 View our other second-hand Iveco vehicles
Iveco box trucks
A box truck, also known as a solo or front trailer, is more economical and cheaper to use than a combi or tractor trailer. The structure is also called a box, this is a plywood or aluminum snaplock material. There is also a sliding tarpaulin or covered variant which is often used for long (indivisible) cargo / lengths. For loading and unloading pallets, a box truck is equipped with a tailgate, this can be a rear-closing tailgate, but also a so-called sliding tailgate. Well-known brands are: DHollandia, Zepro, Pallift, Dautel and Bär. A side door is often provided for small packages. Box trucks are released in different weight classes, a 7.5 tonne for urban distribution, a 12 tonne so that you do not have to buy a Eurovignette or a maut. And an 18 tonne or higher (or small, medium and heavy).
used Iveco box trucks for sale
---
Iveco crane trucks
A crane truck or car crane is a truck on which a crane / telescopic mast is mounted. This mast is usually equipped with a column, a boom with an extension part. To increase the possibilities even a (fly) jib can be mounted. Crane trucks are often used for loading and unloading work in construction. At TopTrucks you will find a wide range of trucks with a crane that are for sale.
used Iveco crane trucks for sale
---
Iveco fire trucks
We have fire trucks for sale in various types, sizes, brands and models. They are used for various purposes. In the first instance, one can think of turning out to extinguish a fire such as: a forest fire, heather fire, house fire, company fire. However, a second-hand fire engine is also often used in emergencies in traffic or an industrial estate. At TopTrucks you will find a wide range of old fire trucks for sale.
used Iveco fire trucks for sale
---