Volvo
Currently 3 in stock
Volvo box trucks
A box truck, also known as a solo or front trailer, is more economical and cheaper to use than a combi or tractor trailer. The structure is also called a box, this is a plywood or aluminum snaplock material. There is also a sliding tarpaulin or covered variant which is often used for long (indivisible) cargo / lengths. For loading and unloading pallets, a box truck is equipped with a tailgate, this can be a rear-closing tailgate, but also a so-called sliding tailgate. Well-known brands are: DHollandia, Zepro, Pallift, Dautel and Bär. A side door is often provided for small packages. Box trucks are released in different weight classes, a 7.5 tonne for urban distribution, a 12 tonne so that you do not have to buy a Eurovignette or a maut. And an 18 tonne or higher (or small, medium and heavy).
used Volvo box trucks for sale
---
Volvo crane trucks
A crane truck or car crane is a truck on which a crane / telescopic mast is mounted. This mast is usually equipped with a column, a boom with an extension part. To increase the possibilities even a (fly) jib can be mounted. Crane trucks are often used for loading and unloading work in construction. At TopTrucks you will find a wide range of trucks with a crane that are for sale.
used Volvo crane trucks for sale
---
Volvo trucks
At TOPTRUCKS you will find (young) used tractor units (also called truck or tractor) from brands such as DAF, Scania, Volvo, Mercedes-Benz, MAN, Iveco and Renault. Tractors are trucks with a cabin and a fifth wheel, intended to pull a trailer. In addition to the brand, there are several other things to consider when purchasing a tractor. Important things are: Cabin type, sleeper cab, high cabin, but also: configuration, power, emission class / Euro standard and transmission (gearbox type and gear ratio).
used Volvo trucks for sale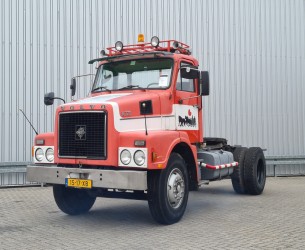 Volvo N720
Oldtimer, Full Steel suspension
€ 14.500,00

excl. VAT
---